Winter 2019 Newsletter
ENGINEERING NEW MULTIFAMILY HOUSING FOR CALIFORNIA'S GROWING CENTRAL COAST
Type V wood-frame construction over a one-story concrete podium is a typical approach to building midrise wood structures that can withstand California's rigorous seismic demands. In the Central Coast the trend towards more dense, mixed-use construction is just in its infancy, but FTF, under the leadership of Associate Jillian van Enckevort, S.E., is helping move things along. Our work on the Rooftop Gardens at Celebrations II senior housing apartment complex in Santa Maria and an oceanfront hotel in Pismo Beach are at the front of a new wave of efficient land-use and infill buildings.
The Rooftop Gardens project is designed as garden-style units to take advantage of the mild climate and offer plenty of community-focused space. The structure is two stories of wood construction over a concrete podium. The ground floor includes parking as well as a spacious lobby that enhances the development's street presence.
The four-story, 124-room hotel fronts on Pismo's famous boardwalk and features a large restaurant and bar where patrons can take in the local action. FTF is providing constructability and means & methods consulting on the project, designed as a three-story plus concrete podium structure.
---
TRANSLATING VISION INTO REALITY WITH SINGLE FAMILY HOMES
Designing homes like the San Mateo Drive Residence in Menlo Park recently featured in Luxe Magazine takes a special level of teamwork. These highly custom homes are, in many ways, like a fine Swiss watch—a series of highly interconnected parts whose whole represents an architectural and engineering ingenuity.
While the locations, sites and geography vary among the houses we engineer, design elements like a thin roof profile, large cantilevers, expansive use of glass and the use of steel are all quite common. According to Principal Nik Favretto, P.E., who works regularly on these types of high-end homes with prominent architects, the greatest challenges are hiding the structural elements completely to allow the architectural features to take center stage. Maybe there is some truth to the quote "The definition of genius is taking the complex and making it look simple!"
---
IT'S A NEW YEAR, SO WE'RE ROLLING OUT A NEW LOOK
2018 was one of the most successful years in FTF's history, but we're never satisfied with the status quo. For 2019 we are embarking on a host of enhancements, including an overhaul of our website, firmwide use of Office365 for team communication and streamlined project management, and enhanced REVIT capacity to respond to our continued growth and expanded service offerings. We're working hard to make sure these are smooth transitions that benefit our clients and colleagues. Please give us feedback along the way. We're all ears!
---
FTF SPOTLIGHT: RANDY COLLINS, S.E.
Randy Collins is not just FTF's fearless leader and a consummate entrepreneur—he's a highly skilled engineer whose knowledge is sought by California's most respected clients and structural engineering associations. 2018 saw Randy expand his commitment to our profession by serving as Secretary for the Structural Engineers Association of Northern California (SEAONC) Board, a position to which he was elected by SEAONC membership. SEAONC has a long history in California dating back to the 1920s, and was instrumental in developing the first seismic design provisions. Randy was also asked to serve on the Cal-Poly San Luis Obispo Architectural Engineering Department Advisory Board. This group is made up of industry professionals who help the ArcE department remain at the forefront of the industry and continue to produce some of the most sought-after graduates in the country. Randy and his family recently moved to Larkspur, a few miles north of the Golden Gate Bridge. From this vantage point he will assist FTF in expanding our geographic reach. Added bonus—he gets to sample more Sonoma and Napa wines!
---
RAISE YOUR GLASS TO THIS $11 FARNETELLA LUCILLA TOSCANO ROSSO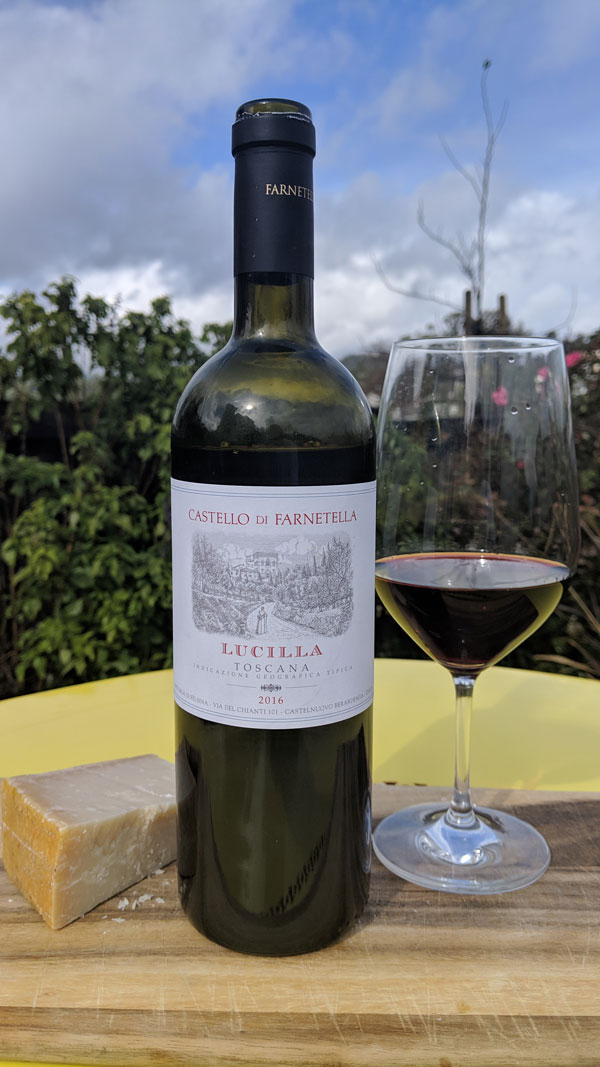 FTF is a "bang for the buck" kind of group. We strive to consistently give clients more than asked for, and we are always on the lookout for things that give more than what's expected. Each month at our happy hour we explore new things—food, wine, news, topics, speakers. At this month's happy hour we reviewed wines, and this one certainly gave us a lot to be excited about.
The Farnetella is an absurd bargain at $11, and was originally "sourced" by Randy Collins and his Mom on a two-week sojourn to Italy to celebrate her 75th birthday. It's a bright and earthy red wine blend made of Cabernet, Merlot and Sangiovese grapes. Confirmed as "a classic Tuscan red appropriate for any night of the week" by our in-house 'experts', you can pick up a bottle or case of this medium-bodied wine at K&L Wines.